My first article in Slate: No Touching
As Israel's military becomes more religious, women are having a really hard time showing men how to hold a rifle.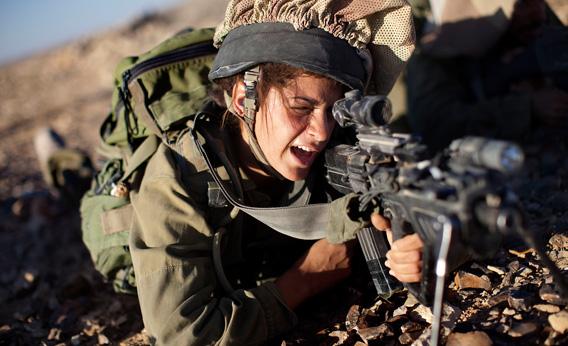 A soldier from the 'Karakal' Battalion during training near the Israeli-Egyptian border in 2010 near Azoz, Israel.
Female soldiers have made tremendous strides in Israel over the past two decades. According to the IDF, women make up 33 percent of the whole armed forces; female officers with the rank of colonel grew by 100 percent in the past 13 years, from 2 percent of all colonels in 1999 to 4 percent today; and the share of female officers with the rank of lieutenant colonel has grown by 70 percent in the last decade, from 7.3 percent of all lieutenant colonels in 1999 to 12.5 percent today. Perhaps most significantly, in March 2011 the IDF appointed Brig. Gen. Orna Barbivay as the first-ever female major general.
Women are still a small minority of officers, but their numbers are rising. This is a significant change, a result due in large part to a landmark court case brought by Alice Miller in 1995 to open up pilot-level courses to women. Although Miller won, it wasn't until 2000 when the government officially changed the Military Service Law, which now reads: "The right of women to serve in any role in the IDF is equal to the right of men." As a country with mandatory conscription since its founding in 1948—the only country in the world in which women are also subject to this conscription—these advances are significant. Gone are the days when women are relegated to jobs of making coffee and typing men's memos. Although, according to the IDF, only 93 percent of all roles are open to women—despite the change in law—women are located in far more areas of the Israeli military than ever before.
With progress come problems, and female advancement in the IDF is particularly problematic for religious men. Rabbis have voiced opposition to a female presence in the army since the establishment of the state. Religious women have always been allowed to claim exemption from military duty if they elect to do national service instead, such as volunteering in hospitals and schools. Debates over army versus national service are fixtures in religious girls' schools, especially in 11th and 12th grade. These debates are not just, or at all, about individual choice or preference—religious girls (and their families) seek out rabbinical opinions for guidance. One of the most popular sites of the religious Zionist public (meaning the religious community that believes in the existence of the state of Israel and traditionally does serve in the army, rather than the ultra-Orthodox who do not believe in the state and do not serve) is full of queries from girls to rabbis about whether they should do the army or national service.
READ MORE http://www.slate.com/articles/double_x/doublex/2012/10/women_in_israel_as_the_idf_becomes_more_religious_the_rights_of_female_soldiers.html